HEAR IT STRAIGHT FROM THE HORSE'S MOUTH 
26th May @ 10AM
After the raving success of our first webinar joint with LinkedIn, we're collaborating again to bring you another exclusive webinar surrounding
'How to get an ROI from Sales Navigator'.
A lot of businesses are investing in Sales Navigator, but don't have the slightest clue how they can utilise it to generate an ROI. You may be spending upwards of £70 a month without generating any leads – only to leave you questioning your investment month after month. 
We're here to solve this for you. Richard Jones, Senior Strategic Account Manager at LinkedIn will teach you all of his insider tips and tricks to maximise your Sales Navigator subscription. 
This is not just a LinkedIn 'Expert' or 'Guru' but directly from the horse's mouth from one of the Senior Account Managers at LinkedIn. 
I'll be hosting a fireside chat with implementable takeaways directly from one of LinkedIn's senior account managers on how to get the most from your LinkedIn Sales Navigator. Here's what we'll cover:
How you can avoid gatekeepers and reach decision makers
How you can see exactly who has been looking at you with a deep-dive analysis
Give you ways to start engaging in conversations with your target market
How to use LinkedIn Sales Navigator as your CRM
There will also be an opportunity to ask any of your burning questions to Richard at the end of the session.  
"I really enjoyed the webinar with Richard Jones and Alison this morning - great content, superbly delivered!"
Wednesday, 28th April, 2021
"Thank you Alison for the brilliant presentation with Richard Jones this morning! Plenty of useful hints and tips in there!"
Wednesday, 28th April, 2021
"Loved your presentation with Alison Edgar today, Richard. Thank you for answering so many questions. I am a long time member and user of LinkedIn all the way back to 2004, so have seen so many changes down the years, and you do have to study the platform to see what is new. Super content today - thank you"
Wednesday, 28th April, 2021
"Fab webinar this morning, thank you for the tips and insights. Really useful and for the explanations around Sales Navigator and Premium"
Wednesday, 28th April, 2021
Who is this session for?
Anybody who is already subscribing to Sales Navigator but feel you can get more out of it

People who would like to give Sales Navigator a go, but don't know where to start

For anybody who is getting stuck at gate keepers and is looking to reach decision makers
People who have previously completed a trial but would like to give it another go 

For anybody looking to glean knowledge directly from one of LinkedIn's senior managers
What's included in your ticket price?
LIVE Session with Q&A hosted by Alison Edgar MBE and Richard Jones, Senior Account Manager at LinkedIn
Session recording to re-visit at any future point
Free trial of Sales Navigator
Sign Up Now
Be sure to add alison@alisonedgar.com to your contacts list to ensure our emails don't end up in your junk folder.
If you still haven't received the link to access the webinar within 24 working hours, give us a bell at rebecca@alisonedgar.com.
VAT calculated at checkout.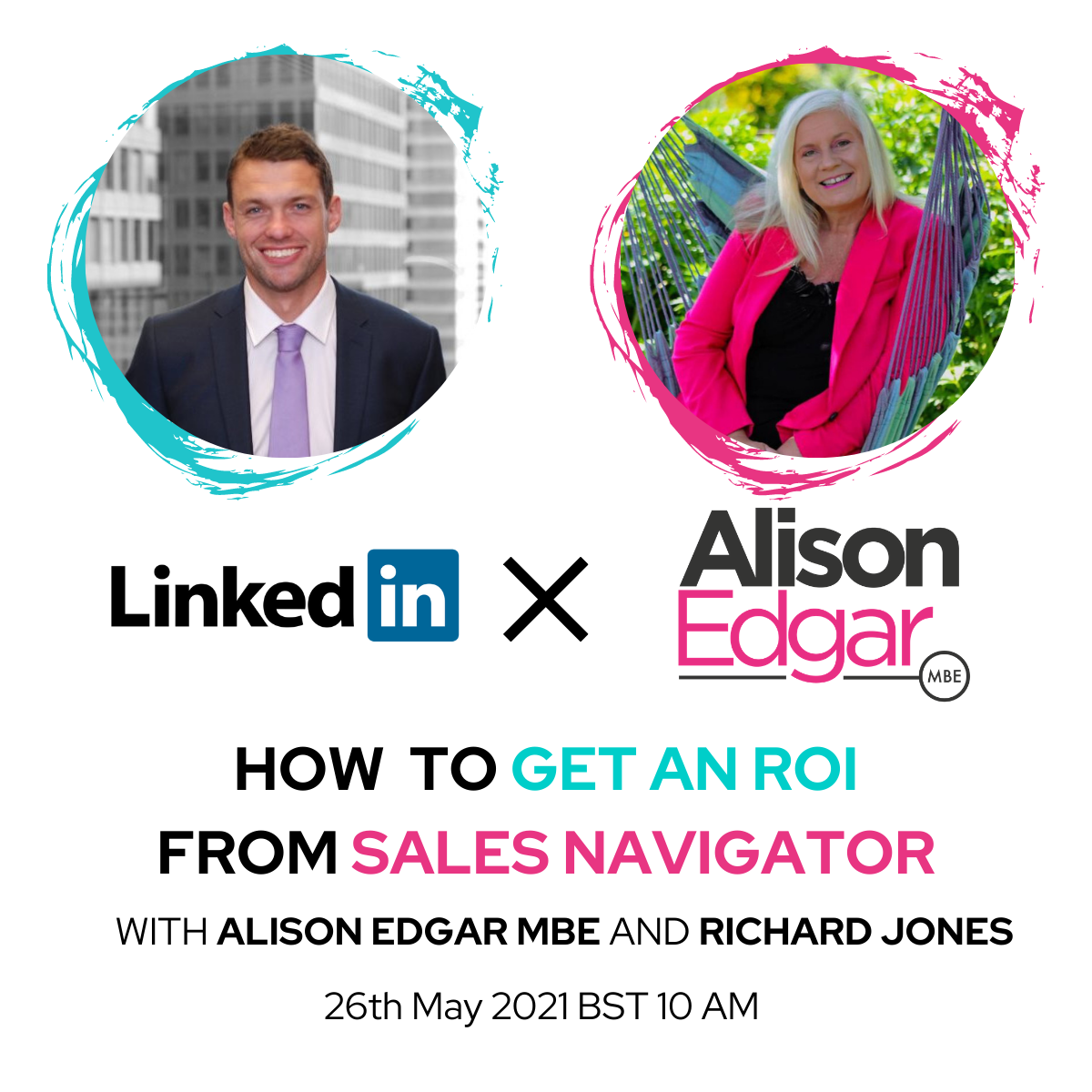 Refund Policy: No Refunds